REGISTRATION & WARRANTY
Congratulations on your purchase of our brand new wheels! The wheels you have recently purchased are the result of technological advancements in the wheel manufacturing process, combined with years of experience in research and development. Please maintain the information contained on this registration card as a reference to the proper care and installation of your wheels.
IMPORTANT NOTICE
Attention Installer:
This manual contains important information about the wheel warranty, wheel registration, and maintenance of the wheels. This information should be given to the owner/customer of the products.
INSPECT YOUR WHEELS
Inspect all parts, including wheel studs and mounting surfaces of the hub and wheels to ensure that they are in good working condition. Careless installation of wheels on a vehicle is a major cause of tire and wheel problems. Proper installation of wheels includes using a rim-clamp style tire changer, computerized wheel balancer, proper size wheel weights, and torqueing the wheels to vehicle manufacturer's specifications. Consult a professional wheel and tire installer for the proper fitment of your vehicle.
TORQUING AND INSTALLATION
The correct installation of wheels requires the proper torqueing of lug nuts. Improper torquing of wheels can cause distortion, fatigue cracks, or alignment problems. After completing the installation process, re-torque the wheels after driving for a distance of 25 miles to ensure the tightness of lug nuts. Wheels should be re-torqued to vehicle manufacturer's specifications. Please refer to the lug nut tightening pattern chart, and the recommended torque chart below: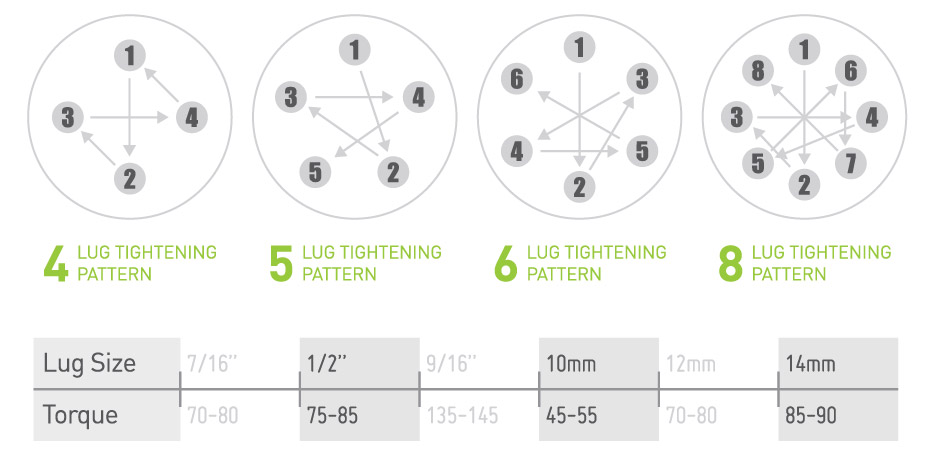 WHEEL MAINTENANCE
CHROME WHEELS: To maintain the finish of your chrome wheels, only mild (non-abrasive) soap and water is required. Always keep wheels free of brake dust and road salts.
PAINTED WHEELS: To maintain the finish of your painted wheels, use mild soap and water is required. Always keep wheels free of brake dust and road salts.
POLISHED WHEELS: To maintain the finish of polished wheels, use mild soap and water to clean polished wheels. Periodically, aluminum metal polish many be required to bring back the original luster of a polished aluminum wheel.
LIMITED LIFETIME STRUCTURAL WARRANTY
Trade Union International, Inc. offers a limited lifetime warranty on the structure of our wheels. This warranty applies to the original retail purchaser that all our wheels will be free from defects in material and workmanship, under normal and intended use. This lifetime warranty is not transferable. This warranty does not include "Road Hazards" or "Misuse", such as accident, fire, hitting a pothole or debris, neglect, overload, severe impact or exposure to harsh chemicals.
CHROME WHEELS, PAINTED WHEELS & POLISHED WHEELS
Chrome and Painted Wheels are covered by a one year limited warranty on the finish of the wheels. Use of harsh cleaning agents, steam cleaning, salt or other hazardous conditions will void this warranty.
Polished wheels are covered by a 90 day limited warranty.
RETURN POLICIES
All wheels that are returned for repair or replacement require a Returned Goods Authorization (RGA) number. Please contact your original installer, dealer or distributor for inspection that the wheel has failed in normal use and service due to defects in materials or workmanship. Dealers and distributors will contact our customer service representative to obtain Returned Goods Authorization (RGA). Wheels need to be returned with freight prepaid. Trade Union International, Inc reserves the right to inspect, and at our sole discretion, to repair or replace wheels.
LIMITED WARRANTY
This is a Limited Warranty. This warranty does not include merchantability or fitment for particular alterations. All wheels should be check fitted by professional installers before and after installing the wheel and tire package, on both front and rear of the vehicle before mounting the tire. Any wheel that has had a tire mounted on it may not be returned for credits. Trade Union International, Inc. and its distributors will not be responsible for labor, transportation, or any other charges incurred in the replacement or repair of a defective part. This warranty expires upon transfer of title. Wheels are not designed to be mounted with any accessories or adapters, etc., other than those supplied and or approved by our distributors. Any damage caused by such accessories or adapters is not covered by this warranty.
WARRANTY EXCLUSIONS
Any wheels that have been damaged due to abuse, neglect, misuse, or that have been repaired or altered.
Wheels that have been used for off-road or racing.
Wheels that have been damaged due to adverse weather conditions, or road chemicals.
Wheels that have been improperly installed or installed with other than recommended accessories.
Wheels that have been installed with tires that exceed the recommended size or installed on vehicles that they were not specifically intended.
Transfer of title of any of our wheels by the original purchaser voids the warranty.
This warranty gives you specific rights and you may also have other rights under state laws. Some states do not allow the exclusion or limitation of incidental or consequential damages, so the above limitations and exclusions may not apply to you. A copy of this warranty and installations are supplied in each wheel box for your convenience.
Wheel Industry Council – General Aftermarket Wheel Installation Guidelines